Sensor siêu âm. Part number: LU80-5101 Flowline
The general purpose ultrasonic transmitter provides continuous level measurement up to 32.8' (10m) with a 4-20 mA signal output, and is configured via its integral push button display module. This non-contact liquid level sensor is well suited for corrosive, ultrapure, sticky or waste liquids, and is selected for bulk storage, tanker truck and neutralization tank applications.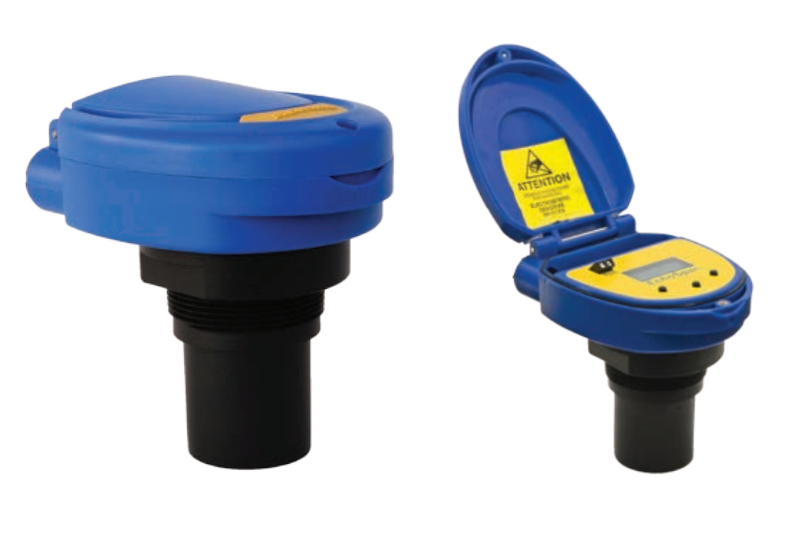 Features
Offered in 4 measurement ranges from 9.8' (3m) to 32.8' (10m)
Configuration is simple via integral push button display module
LCD display indicates level in inches, centimeters and percentages
Narrow 2" or 3" beam width for applications with limited measurement space
Fail-safe intelligence and diagnostic feedback for simple troubleshooting
PVDF transducer and NEMA 4X polycarbonate enclosure for corrosive liquids
Automatic temperature compensation for accurate measurement
Success
Thermoelectric power plants use tens of millions gallons of water per day in their steam turbines and cooling towers. As such, most US plants are located in the Coastal or upper
Midwest states with easy access to abundant ocean or lake resources. These facilities have lots of sumps that collect and pump transfer water into treatment for reuse or release to the environment. But the sumps capture much more than water including grease, oil and chemicals that coat everything in the pit. Here, an EchoSpan ultrasonic level transmitter is installed over the sump man-way. The patented digital signal processing technology features an industry leading 3" beam width that enables installation in close proximity to the ladder and side wall.

Specifications
Range: LU80: 4" to 9.8'
(10cm to 3m)
LU81: 8" to 18.0'
(20cm to 5.5m)
LU83: 8" to 26.2'
(20cm to 8m)
LU84: 12" to 32.8'
(30cm to 10m)
Accuracy:       ± 0.2% of range
Resolution:     LU80: 0.019" (0.5mm)
LU81/83: 0.039" (1mm)
LU84: 0.078" (2mm)
Dead band:      LU80: 4" (10cm)
LU81/83: 8" (20cm)
LU84: 12" (30cm)
Beam width:   LU80: 2" (5cm)
LU81/83/84: 3" (7.6cm)
Configuration:            Push button
Memory:         Non-volatile
Display type:  LCD, 6-digit
Display units: Inch, cm and percent
Supply voltage:          12-28 VDC
Loop resist.:    500 Ohms @ 24 VDC
Signal output: 4-20 mA, two-wire
Signal invert:  4-20 mA, 20-4 mA
Signal fail-safe:          4mA, 20mA, 21mA,
22mA or hold last
Process temp.: F: -7° to 140°, C: -20° to 60°
Temp. comp.:  Automatic
Ambient temp.:           F: -40° to 160°, C: -40° to 71°
Pressure:         MWP = 30 psi (2 bar)
Enclosure rating:        NEMA 4X (IP65)
Encl. material:            Polycarbonate
Encl. hardware:          Brass & stainless
Enclosure vent:           Water tight membrane
Conduit entrance:  Dual, 1/2" NPT
Trans. material:          PVDF
Process mount:           LU80: 1" NPT (1" G)
LU81/83/84: 2" NPT (2" G)
Mount gasket: Viton®
Classification:            General purpose
Compliance:   CE, RoHS
Dimensions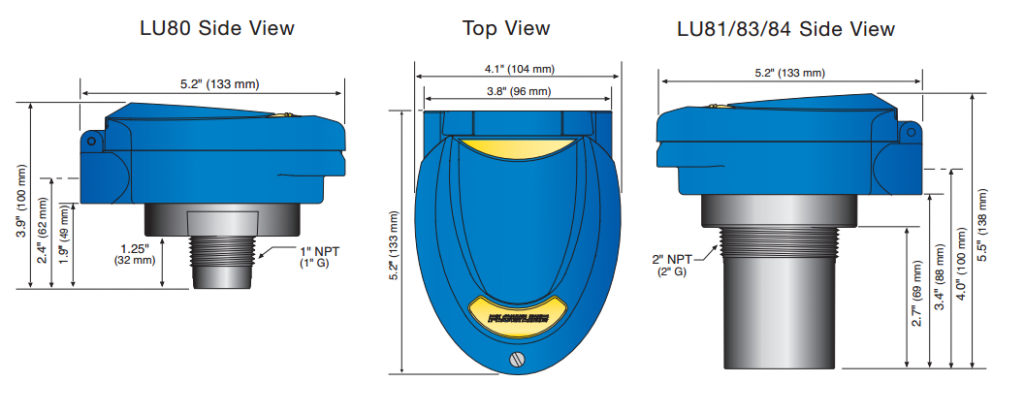 Fittings
For optimum performance, install the level sensor using the below recommended or direct equivalent fittings.